What is COSMOS?
The term COSMOS is derived from "COcoa Supplement and Multivitamin Outcomes Study." The COSMOS Trial is a large-scale, placebo-controlled, clinical trial testing the risks and benefits of supplemental cocoa extract and a multivitamin in the primary prevention of cancer and cardiovascular disease. The primary outcomes of the study are heart attack, stroke, coronary revascularization, cancer and death.
Who is running COSMOS?
COSMOS is run by Brigham and Women's Hospital, an affiliate of Harvard Medical School, in Boston, MA, and the Fred Hutchinson Cancer Research Center in Seattle, WA.
How is COSMOS supported?
COSMOS represents an important partnership across academic, industry, and government collaborators. COSMOS is supported by an investigator-initiated grant from Mars Edge, a segment of Mars dedicated to nutrition research and products, which included infrastructure support and the donation of study pills and packaging. Pfizer Consumer Healthcare (now part of GSK Consumer Healthcare) provided support through the partial provision of study pills and packaging. COSMOS is also supported in part by grants AG050657, AG071611, EY025623, and HL157665 from the National Institutes of Health, Bethesda, MD. The Women's Health Initiative (WHI) program is funded by the National Heart, Lung, and Blood Institute, National Institutes of Health, U.S. Department of Health and Human Services through contracts 75N92021D00001, 75N92021D00002, 75N92021D00003, 75N92021D00004, 75N92021D00005.
Who was eligible to participate in COSMOS?
Women aged 65 or older and men aged 60 or older who did not have a previous history of a heart attack, stroke, or cancer (other than skin cancer) diagnosed within two years prior to the start of the trial are participating in COSMOS. Participants are from every state in the United States. The study pills were sent via postal mail and study forms are completed either online or through the postal mail.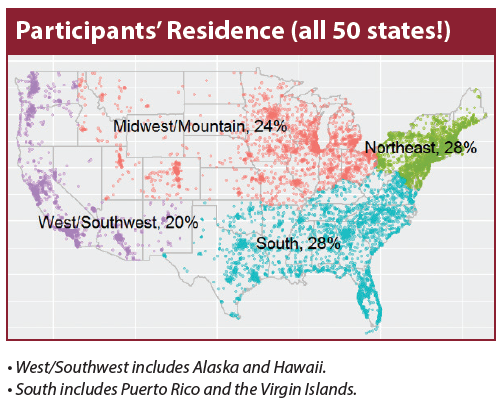 What does participation involve, now that COSMOS pill-taking has ended?
Even though the pill-taking phase has now concluded, COSMOS will continue! COSMOS participants are still part of an incredibly unique large-scale scientific endeavor to understand not only the long-term health effects of the randomized cocoa extract and multivitamin interventions, but also to deepen our understanding of healthy aging. We will continue to send questionnaires to COSMOS participants, as well as provide opportunities for involvement in other important substudies and new research studies. Questionnaires ask for information about health; lifestyle habits such as exercise, diet, and smoking; use of medications and dietary supplements; and family history of illness. Occasionally, we may contact participants by phone to collect information or to clarify questionnaire responses.
What was the likelihood that I was assigned to at least one "real" study supplement, rather than a placebo?
All participants had an equal chance of being assigned to one of the four study groups: (1) daily cocoa extract and multivitamin (25% chance); (2) daily cocoa extract and multivitamin placebo (25% chance); (3) daily cocoa extract placebo and multivitamin (25% chance); or (4) daily cocoa extract placebo and multivitamin placebo (25% chance). There is therefore a 25+25+25=75% chance that you were taking at least one "real" supplement.
The "real" cocoa extract study capsules included 500 mg of cocoa flavanols and the multivitamin was a standard Centrum Silver®. The amount of cocoa flavanols in the study capsules has been corrected to 500 mg per day rather than the original 600 mg per day as specified in our earlier communications. The content of the study capsules did not change but an improved laboratory method for measuring cocoa flavanols recently became available. According to this new method, the total amount of measurable cocoa flavanols in the two study capsules is 500 mg. However, the amount of a key bioactive component of the flavanols, (-)-epicatechin, remained the same.
Can I get the same amount of cocoa flavanols from chocolate as the amount in the active cocoa extract capsules?
It would be very difficult to get this amount of cocoa flavanols from chocolate without adding a large number of calories. See the chart below:

Is participant health information kept confidential?
Yes! We are committed to protecting participant privacy. Information from completed questionnaires and medical records is identified in our computer files by study number only, and only a few staff members, who have received training in—and understand the importance of—protecting confidential health information, have access to the file that links study numbers with participants' names. Personal information will be used only for COSMOS, and no personal information will identify participants in published research findings. Participant trust is essential to the success of the study, and we would never do anything to risk losing your faith in us.
What was the reason for collecting blood and urine samples from participants?
As an optional part of COSMOS, at the start of the study we requested blood and urine samples from a subset of willing participants. These samples allow us to study whether baseline blood levels of flavanols, other pertinent nutritional biomarkers (chemicals), and vascular/metabolic biomarkers are related to (a) an individual's risk for developing a particular disease and (b) the effects of cocoa extract or multivitamin supplements on pathways relevant to major health conditions. Interested study participants received blood and urine kits, including collection instructions, in the postal mail. Some participants were able to have their blood drawn by their local healthcare providers, whereas others required assistance in locating someone to draw their blood.
Do participants receive a copy of the blood test results? If not, why?
Unfortunately, the results of blood tests are not released to study participants. There are four reasons for this policy. First, blood samples are not analyzed until the end of the study, so the results would not be an accurate measure of a participant's biomarker levels at the time they are received. Second, some lab tests are done on only a sample of participants (not on everyone). Third, the labs used to analyze the blood samples are certified as research labs rather than clinical labs—this means that they apply different standards for analysis and their results cannot be directly compared with results from clinical labs. Fourth, informing participants of blood test results during the trial could bias the study's findings if a large percentage of participants started taking either of the COSMOS interventions on their own during the trial to achieve a blood level they thought was best (COSMOS was designed to test this very question—i.e., does initial nutritional status impact health benefits for the cocoa extract and/or multivitamin interventions?).
If participants move their residence, how can they be sure that they will continue to receive mailings in a timely fashion?
To ensure that study mailings continue without delay, participants should notify us of changes in their mailing address, phone number, and email as soon as possible (1-800-633-6913 or COSMOStrial@partners.org), and inform us of the start date for the changes.
Why is date of birth on almost every questionnaire?
In a study as large as COSMOS, there are often one or more participants with the same name. In addition to name and study ID number, dates of birth serve as unique identifiers.
Why do you ask for the name and number of a contact person?
In a long-term study such as COSMOS, we occasionally lose touch with study participants when they move or have other changes in their status. We may write or call a contact person to ask for the participant's current address or phone number only if we cannot reach him or her after multiple attempts.
Do participants learn what study pills they received during the trial?
Yes, after pill taking ended, we informed participants through postal mail about which study agents they were assigned to take during the trial. Participants may contact us at 1-800-633-6913 if they did not receive the letter with their study pill group assignment or if they have questions.
I am aware that all dietary supplements, including cocoa extract and multivitamins, have possible benefits and possible risks. Were the COSMOS data monitored to be sure that participants were not experiencing undue risks from participating in the study?
Cocoa extract and multivitamins, in the amounts that COSMOS tested, are among the safest of dietary supplements. Participant safety has always been a high priority for the COSMOS investigators. Indeed, in clinical trials, keeping a close eye on all health outcome data to check for safety concerns is required by the National Institutes of Health. All health outcome data collected in COSMOS were carefully reviewed each year by a panel of outside medical and statistical experts who were not affiliated with the study. This panel is called the Data and Safety Monitoring Board. If an unacceptably high risk or strong benefit for the cocoa extract supplement or the multivitamin had been found, that part of the trial would have been stopped and participants would have been notified.